Review: PrepAgent
[UPDATED REVIEW APRIL 2019]
One of the top real estate exam prep websites out there is PrepAgent. We've heard a lot about these guys, especially because of their popular YouTube channel and very active Facebook page. We decided to go undercover to see what the typical person goes through when signing up with PrepAgent.
If you don't want to read the whole review, here's our summary:
Rating: 5/5
Best in class exam prep tools. Content is up to date, website works great on all the devices we tested on (MacBook, iPhone, Android Phone, iPad), and customer support is excellent. Use promo code SECRET1 for 20% off (we found this code online so we don't know how long it will be valid for).
The Signup Process
The first thing we noticed is that that they have three different packages: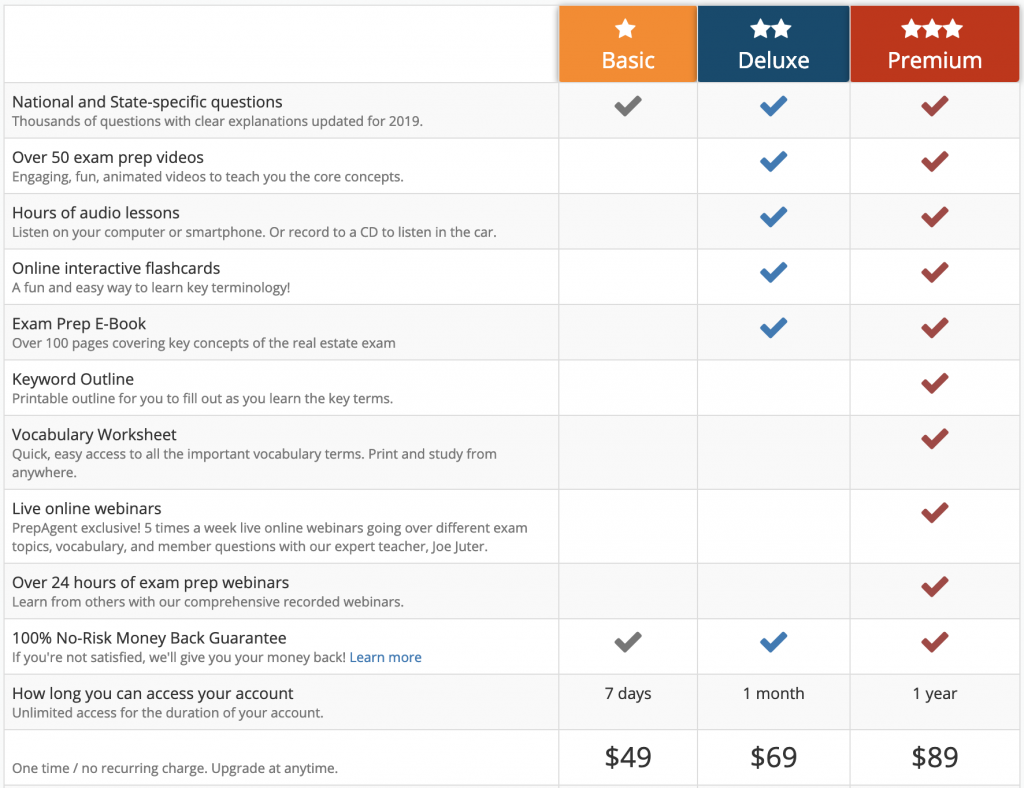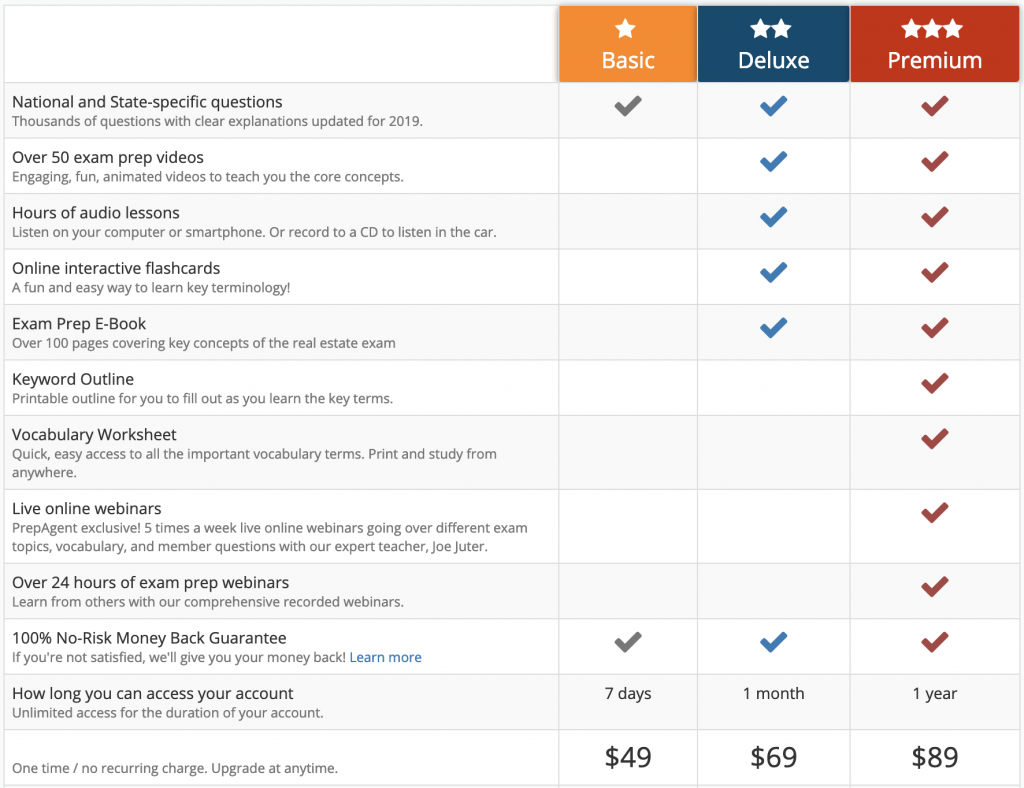 We decided to get the Premium package so that we could test every feature. Signing up was relatively easy.  Before picking the package, you select your exam type (salesperson or broker) and exam state. This way, the practice questions are geared specifically to your licensing state and type. Once we picked a package, we were asked for our email address and a password. The checkout process was through Stripe, which is one of the best and most secure payment processors (always a plus).
Features
Once we signed up, we were greeted with the "member dashboard" with plenty of study tools to choose from.
Practice Exams
That's a lot to go through! We started off where most people probably start: practice exams. We've seen a lot of different interfaces for practice exams and most leave a lot to be desired. The most important things we look for here are:
Easy to use
Mobile friendly
Accurate questions and answers
Clear explanations for each question
PrepAgent got 4 / 4 on these and actually breaks down the practice exams into categories, as well as a comprehensive exam including all of the categories. The options were:
Property Ownership
Valuation & Market Analysis
Financing
Transfer of Property
Contracts
Laws of Agency
Practice and Disclosures
Master Exam (Comprehensive exam of all the above categories)
State-specific questions
Math Questions
Vocabulary and Terminology
They somehow made it actually fun to do the practice exams! We got a bit carried away and did 30 questions before remembering that we're here to review the whole site.
Exam Prep Videos
We next checked out the videos, and were not disappointed. There's a reason PrepAgent's YouTube channel has over 5 million views (as of the date of this article). The guy who made this system and these videos, Joe Juter, has been a real estate teacher for a long time and knows how to break down the mind-numbingly boring content of the real estate licensing exam. There were over 70 videos covering every topic you could think of.
The videos were concise and well explained with animations that helped with the comprehension. We checked the source code of the page and noticed that the videos were hosted through Vimeo – a rock solid cloud-based video hosting platform.
Audio Lessons
The audio lessons were a nice bonus that we haven't seen provided by other exam prep companies. One of their coolest features is that they are hosted on SoundCloud, which means you can download the free SoundCloud app on your iPhone or Android device and listen to these audio lessons anytime. When you stream it from the website, you can close your phone screen and still hear it  – great for connecting to your car with Bluetooth and listening on your drive.
They also have the option to download all of the audio as MP3 files so that you can burn it to a CD or listen offline (we later found out that they also sell audio CDs on their website).
Interactive Flashcards
Knowing the terminology used on the exam is extremely important. A lot of the times you might not even know the answer to the question, but understanding the meaning of the words used can give you enough of an edge to get the right answer. These flashcards were pretty fun to use. Basically you are shown a word, then when you click on the card, it does a nice animated "flip" and shows you the definition. Then you click again and go to the next word. Definitely an easy way to learn vocabulary in your downtime.
Webinars & Private Session
One of the benefits of the premium package is access to 5 times a week live online group webinars. You get to chat along as they go over questions based on the topic that day. You also get access to EVERY webinar they have done in the past, including a full replay of the chat, so it feels like you are watching it live. There's just something about live scheduled webinars that makes it easier to commit to and watch than a recorded video. Definitely one of the most unique features with PrepAgent VS any of their competitors.
Exam Prep E-Book, Vocabulary Worksheet, Keyword Outline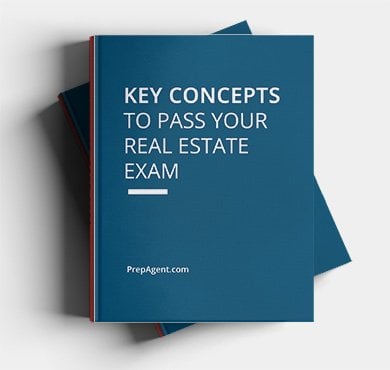 When we saw the e-book option, we assumed it was going to be a dozen or so thrown-together pages. Turns out, it's over 100 pages and goes over all of the major concepts on the exam! It's written in a really easy-to-understand format and, if you're so inclined, you can print it out to read on the go.
The vocabulary worksheet and keyword outline also did not disappoint. Again emphasising the importance of understanding key vocabulary terms, the worksheet was great to print and fill out as we learned the meaning of each word and the keyword outline explains all the main terms in a single document.
Refund Policy
One of the biggest issues we've had with other sites is their restrictive refund policies. Most don't have any refund option. The ones that do require you to take your exam, fail, and then submit the embarrassing proof and documentation of failing to get your money back. Pretty much they make it as difficult as possible to get your money back.
PrepAgent advertises a "100% satisfaction guarantee" with no real restrictions (other than not being able to give a refund if you've done a private session). We decided to see if they really live up to this. We sent a short email asking for a refund and just stated that we were not satisfied. Within 30 minutes we got a reply back with a confirmation that they would be refunding the money! Frankly, we felt bad and replied that we changed our minds and wanted to keep the service. We were pleasantly surprised to say the least!
Conclusion
With a rock-solid refund policy, cutting edge website, and a great selection of study aids, we rate PrepAgent 5 out of 5 stars. Joe Juter has put together an excellent resource and it's obvious that he and his staff actually care about people passing their exam.
Update: We found this code online and it seems to work: Use promo code SECRET1 for 20% off (we don't know how long it will be valid for).
Links: